A Python software (Py) dedicated to the simulation of multi-physical Port-Hamiltonian Systems (PHS) described by graph structures.
The PHS formalism decomposes network systems into conservative parts, dissipative parts and source parts, which are combined according to an energy conserving interconnection. This approach permits to formulate the dynamics of multi-physical systems as a set of differential-algebraic equations structured according to energy flows. This structure proves the passivity of the system, including the nonlinear cases. Moreover, it guarantees the stability of the numerical simulations for an adapted structure preserving numerical method.

The main objects of the library are introduced in this presentation. The standard workflow is as follows.
Inputs are netlist descriptions of network systems (very similar to SPICE netlists).
The associated graphs are analyzed to produce the core system's dynamics equations in the PHS formalism.
Simulations (i.e. numerical solving of DAE equations) are performed based on a variety of numerical methods (can be extended with new ones).
The corresponding C++ simulation code is automatically generated and called from python (can also be used in bigger applications).
LaTeX description files can be generated (for documentation, publication, etc.).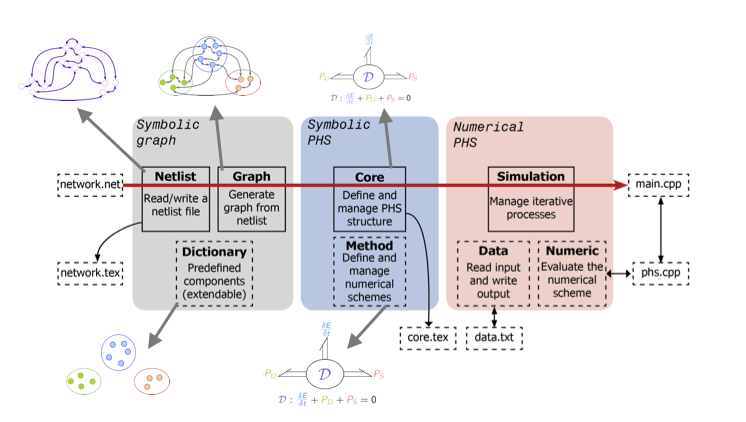 The Python class Core defines symbolically a continuous-time Port-Hamiltonian structure.
The Python class Method defines symbolically a discrete-time port-Hamiltonian structure derived from a given Core object and for several numerical schemes. It includes a structure preserving numerical method (see [NumericalMethod2015]).
The Python class Netlist reads and writes the descriptions of network systems.
The Python class Graph defines a network structure for the automated generation of Core from Netlist, based on (i) the implementation of a specially designed graph analysis (see [GraphAnalysis2016]), and (ii) a set of elementary components compiled in the Dictionary.
The Python class Simulation evaluates iteratively a given Method object to produce the data result in text files. The evaluation can run in pure Python code with the Numerical object, or can run in C++ through the generated C++ files.